After the experience of two parties (
Hubbub 2007
and
Hubbub 2008
), I think we're close to getting it right. Similar to last year, we had around 800 students visit our information commons during a two hour period.
Staff felt like it was much bigger than last year, so perhaps our counting technique (door counts combined with prize drawing registrations, giveaways, etc.) is a little flawed. With five entrances to the space and students in and out all night, it's pretty much impossible to get an accurate count. Regardless of the number, it was clear as could be that students were having a great time.
Some thin
gs that really worked in our favor this time:
Time slot.
The first two years we held the party from 6-8 pm with the library closing at 8 pm. This created some logistical issues, plus there were multiple conflicts with other events. No matter when you plan something during
K Week
, our freshman orientation week, there are always competing events.
Due to some
schedule changes, this year we were able to move the party from 5-7 pm which reduced our competition somewhat and gave us an hour for the party games and socializing to wind down naturally before the building closed. While lines to organized events were cut off well ahead of 7 pm (more on that below), students playing Scrabble, drawing, or just hanging out were welcome to stick arou
nd. Some even helped us start pulling down decorations. This was so much better than staff shooing students out of the building.
Publicity and K Week Staffing.
The K Week folks were so pleased with our event the first two years, they gave us even more publicity this time around. The K Week schedule is a 30+ page booklet of events, and it can be easy to get buried in there. Thankfully we were selected to appear on the abbreviated schedule, as well as on the giant calendar posters displayed all over campus.
The K Week staff provided us with a large group of K Crew student volunteers to assist with the event. I put them to work in several areas, mostly playing board games and corn hole with students as well as working on coloring pages. Who would want to hang out and color with a librarian?
Photo Booth.
As far as activities, the Photo Booth was back again this year. I think the staff have as much fun with the photo booth as the students (
check o
ut these photos
for some laughs and maybe a few librarians you'll recognize). In any case, we all have a blast. We require the students to sign photo release forms, so this also gives us images to potentially use for publicity purposes.
We improved our setup this year by using whiteboards as retaining walls around our makeshift studio. We had so many props (borrowed from staff) that I actually assigned a "prop master" to help keep the space organized. We also set up one of the Hub's video windows to display the pictures in a slideshow so students could enjoy their photos almost instantly (as soon as our Photoshop guru Beth had done her magic).
Board Games.
We brought board games back again this year, and they were a huge hit. Who knew that Scrabble, Clue, and Battleship would be so much fun? These I also borrowed from staff--in those days leading up to the event, my office looked like I was holding a garage sale. It was even worse afterward.
Coloring Pages.
I got this idea from another library, and wow, coloring never gets old. This was such an easy, low-cost activity, I plan to keep coloring pages around for exam weeks and other times when students just need to kick back and have fun.
Palm and Tarot Reading.
Our lovely palm reader Jo was back for the third year straight, and it was truly the line that would not end. Michelle, another UK librarian, joined in the fun by reading Tarot on the other side of our help desk.
Video Games
.
This year we got the video games right. I found an expert and all around nice guy, Keith Raney, who set up the games for us and made sure the students had a good time. Basically I was able to forget about the video games and think about 100 other thi
ngs. It was so great to have someone here to take care of everything. Thank you, Keith! Incidentally, Street Fighter for Dreamcast is incredibly popular, especially with the old school controller setup.
Balloon Artist.
Once again,
Gilbert Adams
, balloon artist was the hit of the evening. Some students waited well over an hour (more on that later) for one of his amazing creations. In addition to being so talented at creating these art pieces (seriously,
check out my bookworm
), he is also an excellent teacher. In just a few minutes, I learned how to make a pretty convincing balloon dog.
Prize Drawing.
The first couple of years, we created prize drawing slips to collect student email addresses. I had all of these grand ideas of contacting them. This resulted in: impossible to read handwriting and names impossible to pronounce correctly. This year I abandoned the idea and used tear off tickets. Easy peasy.
The first two years we made dozens of phone calls and trips around town (I still owe you, Reinette and Krista) for t-shirts, coupons, etc. It was an enormous amount of work, and it also resulted in a prize drawing that lasted a half hour. This year I abandoned that idea and we drew for only 9 prizes, but all were fabulous (thank you to Windstream, Microsoft, Dell, and
MoreDirect).
Weather.
Okay, so you can't control the weather. We got lucky this year with beautiful sunny skies and unseasonably pleasant weather. Last year we had torrential downpours a few minutes before the party started. Blah.
So now you must be wondering what was n
ot so good:
Pizza snafu.
We used the same pizza vendor as last year. Prices were great, pizza was tasty, they were easy to get along with, plus they could chill 100 2 liter drinks for me so I could avoid dealing with ice (see
2007
for the ice story). They also provided all the plates, napkins, and cups at no charge.
For some baffling reason, even though we clearly told them and even though it was on our payment form, they did not bring the plates, napkins, and cups. So imagine this: it's 4:45 pm, students are already lining up, we have 150 pizza boxes stacked up, and essentially nothing to serve them. The delivery staff cleaned out their truck of what little paper ware they had. I sent several staff in search of any cups, plates, or napkins they could find cached in staff areas throughout the building for cake parties an
d such. I also sent staff to the restaurant in our building to see what we could borrow. We took every piece we could find--5 cups here, 10 party napkins there, all mismatched--we took it all. Meanwhile the delivery staff headed back to the store to bring us enough plates and cups to get through the evening. It was quite unpleasant, but we got through it.
Bottom line: I a
m buying my own plates, napkins, and cups from now on.
Line control.
With two years of Hubbub logistics experience, I thought I finally had things worked out. We had a couple of areas where lines were too close or were partly hiding an activity, but for the most part it was okay. What was troublesome was figuring out when to cut off the lines.
The event ended at 7
pm and we closed at 8 pm. Obviously students would stay indefinitely for a palm reading or for one of the prized balloon creations. I couldn't keep staff there all night, so I planned to cut off lines at 6:45 pm. Almost immediately I saw I would have to bump it up, so I cut them off at 6:15 pm. Even doing that, the last student in line got a balloon at 8 pm. I felt like I should have given out awards for the kids who stuck it out the longest. They left happy, but I was still amazed that someone would wait in line for 1 hour and 45 minutes.
Bottom line: I'm rethinking the locations of ev
erything, and we may have a make-your-own balloon art activity instead.
Staffing.
The event would not be possible without staff from IT and the Libraries volunteering to help (it takes around 30 staff volunteers, and with us now plating the pizza and pouring the drinks, we need even more). I realized about halfway through the event that I did not have quite enough help (largely due to the pizza snafu consuming so much time), so I spent much of my time moving staff from one area to another as needed. To the observer I expect it looked like things were running smoothly, but much was happening behind the scenes.
I have also recog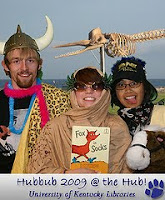 nized that the same staff often do the same things every year, and I suspect some of them are getting tired of it. I would. I have attempted to vary what the staff do (I try to give last year's pizza crew a break this year, for example), but it's tough to do.
Bottom line: Rethink volunteer solicitation for next year, perhaps relying more heavily
on K Crew students.
In the end, despite some glitches, the event was a great success. We're all tired, but we're already thinking about next year. A huge thank you to everyone who made Hubbub 2009 the best library party yet!
Photos by Kopana Terry
Photo booth photos by Crystal Heis, Shawn Livingston, Beth Kraemer